Chiropractic First provides quality chiropractic health care. Our gentle holistic approach and natural solutions for many common health issues have improved the quality of lives of many residents in Chorlton and throughout Greater Manchester. Our chiropractic services are tailored to the needs of each unique patient.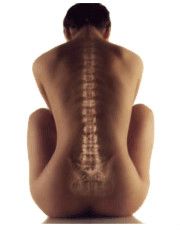 It is estimated that four out of every five adults (80%) will experience back pain at some stage in their life. Almost half the adult population of the UK (49%) report low back pain lasting for at least 24 hours at some time each year.
Are you suffering un-necessarily?
Don't hesitate with 'It might go away' call for your FREE 15 minute spinal check today.

Chiropractic concerns itself with the relationship between structure (the spine and other joints) and function (coordinated by the nervous system) of the human body, and how that relationship affects the restoration and preservation of health.

Spinal vertebrae can become misaligned or fixated causing interference to the joint function and its associated structures pinching nerves which may cause pain, numbness, tingling or burning sensations, often with restriction of movement (stiffness), imbalance and many other symptoms.
Chiropractic First specialize in locating these misalignments and then working with patients to correct these problem areas. Chiropractic Care Improves both Structure and Function

Chiropractic First uses a holistic approach including various chiropractic techniques and physical rehabilitation, nutritional supplements, and other methods to aid pain management. We specialize in helping injuries caused by automobile accidents, sports injuries, and workplace injuries. We can help reverse the effects of injuries caused by repetitive motion, poor posture, and poor lifting habits.
At Chiropractic First, we believe in promoting wellness through injury prevention and health maintenance. Chiropractic Care Improves both Structure and Function
Pain is an indicator that something is wrong and should not be ignored. Free Spinal Checks are available on request - an opportunity for you to see if your problem can be helped at Chiropractic First.
Call Dr Malcolm today to make your appointment on:
0161 881 8333




Your First Visit:

If you are a first-time client at Chiropractic First you will need to give us some information about your background, medical history and the nature of your condition. This is so that we can provide the best possible care, tailored to your specific circumstances. Before we start you will watch a short video.

A bit of paperwork:
We'll have some brief paperwork for you to fill in on your first visit. This paperwork provides us with general information about you and your condition.

Consultation:
During your first consulation with your Chiropractor, you will discuss any health-related issues and concerns. You will also learn about potential treatment options. If you have test results please bring them with you.

History and Examination:
In order to pinpoint your problem, your Chiropractor will ask you a number of questions related to your condition. A variety or orthopaedic and Chiropractic diagnostic tests will be performed to determine what your problem is and a working diagnosis will be made.

X-rays:
Your specific condition may require x-rays either to rule out more serious conditions or to assist in assessing the most effective treatment plan for you.

Report of Findings / Treament:
Once the consultation / examination is complete patients will generally make an appointment for a Report of Finding and have their first adjustment during that same visit. This may include spinal adjustments and physical therapy along with some home instruction. If you feel you need time to digest the information another appointment may be made for the first adjustment on another day.

Home Instruction:
Before leaving, you'll be given instructions on certain activites or procedures to be carried out at home. This may include ice or heat application, avoidance of certain activites or positions, as well as home exercises.

Scheduling the next appointment:
Regular treatment is often essential to aid the process of healing and to obtain the best results. We arrange our treatments around your schedual where possible. Generally speaking, patients are seen within 1 to 2 days and are provided with a complete review of findings. Treatment options for your condition will also be discussed at this time.

If you are not a chiropractic case you will be referred on to the appropriate specialist.
Accepted insurance plans include:

Bupa
AXA PPP
Norwich Union / Aviva
Simply Health
Hospital Funds
Most other health funds
Open to NHS work - speak to your PCT
Harness the natural healing power of your body, mind, and spirit

New patients are currently being accepted

Member of Scottish Chiropractic Association
GCC Registered
Call for an appointment with Dr Malcolm

Chiropractic First

0161 881 8333
info@chiropracticfirst.org.uk